Firm
WHO WE ARE
Rooted in Singapore's architectural map
Founded in 1974 and into our fifth decade of practise, architects 61 has singularly contributed to Singapore's unique CBD skyline more than any other practice. In many ways, we have evolved in tandem with the development of Singapore, engaging in some of the most challenging and complex projects that encapsulate the aspirations of the city, and in the process, constantly shaping the city.
....................
1974 - 1980
architects 61 was founded as a partnership in 1974 by Tay Lee Soon and Yang Soo Suan, who graduated together from Melbourne University in 1961. In 1974, the Urban Redevelopment Authority (URA) was also formed to redevelop the central area of the city. With the founding of URA, architects 61 became increasingly involved in large-scale, complex developments, focused mainly in the Central Business District.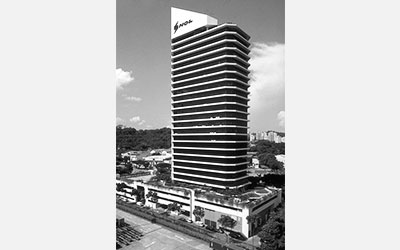 ....................
1980 - 1990
architects 61 worked on many landmark projects in the Central Business District in collaboration with international design consultants, including UOB Plaza, OCBC Centre South, Hitachi/Caltex House, Temasek Tower and Raffles City. These mega projects were instrumental in putting architects 61 firmly on the island's architectural map.
....................
1990 - 2002
In March 1992, architects 61 was incorporated. The firm extended its capability to be entirely responsible for a project, from design to documentation and overseeing construction. Projects included The Heeren, Capital Square, One Fullerton, and Fullerton Hotel which won the inaugural President's Design Award in 2006.
....................
2002 - 2012
The firm's current partners, Michael Ngu and Joseph Cheang, took over the helm in 2002. The firm consolidated its portfolio with renewed focus on the Central Business District with iconic projects including the One Raffles Quay, Ocean Financial Centre, Asia Square Tower 1 and 2 and MBFC.
....................
2012 - PRESENT
Entering its third generation of leadership, the firm has continued to shape the city with highly complex mega-projects such as Marina One and Tanjong Pagar Centre in collaboration with international design partners. At the same time, the firm has broadened its portfolio across multiple sectors with wide-ranging projects such as the Little India MRT station, Centre of Oral Health and Cleantech 3 at Cleantech Park. The firm also continues to hone its design and delivery skills with upcoming Health Science Authority, Esplanade Waterfront Theatre, OBS @ Coney Island and Rifle Range Nature Park.
Management team
architects 61 is led by a team whose decades of local and global experience have steered us to become one of Singapore's leading client-centred and collaborative architectural firms.
From left to right:
Chief Executive Officer
MICHAEL NGU
Chief Operating Officer
JOSEPH CHEANG
Our people
Our team of talented individuals share a culture of excellence and an ambition to produce architectural solutions that are outstanding and inspiring.
Our awards
In recognition of our architectural expertise and commitment to quality and sustainability, across both new and heritage projects, architects 61 has received numerous local and international awards.
Community Outreach Efforts
Pursuing beyond shaping the city, architects 61 engages in community and youth outreach programs to give back to the community, and contribute towards building a future generation of architects.
Club 61
Club 61 opens the door to the lighter side of life, strengthening the bonds of collaboration and camaraderie within the architects 61 family through various activities and memorable moments shared.